ASSISTANT GROWER
The Assistant Grower, in collaboration with and at the direction of Section Growers, is responsible for producing, protecting and maintaining a quality, profitable product for the company and for planning, organizing and coordinating the day-to-day activities of a specific growing operation. 
Job responsibilities include:
(1) Plant Growing & Production. In collaboration with Section Growers and Growing Operations & Nursery Supervisor, assists with the cultural and growing requirements of specific growing areas. This includes hand-on practice and training Millcreek staff on watering, pruning, moving, weeding, fertilizing, spacing, spraying and covering greenhouses. Tasks may also include cutting, sticking, dividing, seeding, transplanting, and other propagation, production and plant care tasks. 
(2) Inventory Management. Supports and/or assists Section Growers with SBI software functions, including adjusting/updating comments, inventory quantities, crop status and transferring ready dates as needed. Also responsible, in collaboration with Section Growers, for determining and assigning accurate plant heights/grades to plant material by monitoring crop status and growth on an ongoing basis, inputting appropriate plant heights into SBI and soliciting feedback from both growing and shipping staff.
(3) Plant Maintenance & Protection. Supports and/or assists in plant protection and pest management in the growing operations area, including scouting, identifying pest problems, formulating control strategies, safe application of chemical controls and pesticide safety training. 
(4) Operational Assistance. Supports the management of the growing operation area by maximizing the use of labor and space resources. Maintains the cleanliness, organization and orderly appearance of all areas of responsibility to include cleaning and upkeep of greenhouse and nursery areas, regular weed-runs, maintenance and storage of tools and equipment, stocking and assisting in inventorying supplies.
Qualifications:
Education: High school diploma or equivalent
Experience: Minimum 1 year of experience in a Growing position with similar duties.
Technology: Proficient in using Microsoft Word, Excel and Outlook and SBI Growing Software (or similar computer program)
Entry Level Seasonal Nursery Worker – which includes the following responsibilities:
Growing Support: Carry out the cultural and growing requirements of specific growing department at the direction of the Section Grower. Tasks may include cutting, sticking, dividing, seeding, transplanting, watering, pruning, carrying, moving/spacing plants, weeding, labeling, dumping plants, covering/uncovering plants, and other growing and maintenance tasks for plants in the greenhouses and nursery, selected poly-hut/shade-hut areas and other assigned areas. Ensures work processes are followed and are current and accurate. Handles day-to-day work challenges and allocates time effectively, properly prioritizing job demands. Performs job duties in a thorough and dependable manner.
Order Pulling: Supports order handling process throughout the shipping season by selecting plants from greenhouses, nursery areas, selected poly-hut/shade-hut areas and other assigned areas, to stock the Supermarket. Tasks include working on pulling crew, reading a Master Pull report to determine which plants to pull from designated locations, selecting, carrying, and loading plants appropriately onto nursery racks, dropping racks off to the Supermarket, and passing on Master Pull reports to the Shipping Department. Prioritizes workload to maximize productivity.
Operational Assistance: Ensures the cleanliness and organization of the growing area, including daily cleaning within areas worked, maintenance and storage of tools and equipment, stocking necessary supplies, returning plants to proper locations and maintaining a neat and orderly appearance of the area.

Our company, customer base, and our convenient location: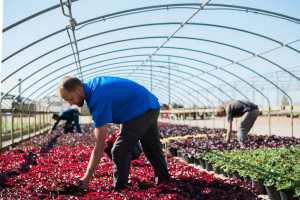 Millcreek is a wholesale grower committed to supplying high-quality container-grown perennials, herbs, ornamental grasses, annuals, succulents, and shrubs. We have a wonderful team of people who work hard every day to supply a top notch product to our customers, who include independent retail garden centers, farm markets, landscapers, municipalities, and public horticulture entities. We are located in Ostrander, Ohio, just 10 minutes north of Dublin and 30 minutes north of the O.S.U. campus. We are within a brief commute from many of the Columbus suburbs including Powell, Marysville, and Delaware.
What we produce and how we do it:
Each year, we produce more than one million finished plants in facilities that include over 95 greenhouses covering 192,000 square feet. In addition, our Propagation Department produces over 700,000 starter plants per year. We are equipped with a 3,200 square foot automated Production Facility with two transplanting lines to maximize efficiency in our plant production. We began using our newly built Shipping Facility in the Spring 2020.