Millcreek Specialty Products
One of the many strengths of the Millcreek team is growing and providing specialty products for our customers!
Are you looking for colorful planters, tabletop gardens, or hanging baskets that arrive ready for your customers to purchase and take home?
Returning for 2021:
12″ Oval Pansy Planters in white Birch will be available beginning early to mid-March.
We have expanded our offering of 12″ Hanging Baskets and now over 25 colorful combinations to choose from.
Themed selections of our popular 12″ Oval Herb Planters.  Combinations available include: Classic Italian, Feline Good, Grillin' Thyme, Salad Bar, and Tea Trio.

Annual Combo Planters – an assortment of color and plant combinations are grown in a 12″ round, aged cappuccino container. 

Proven Winners Annual Combo planters – grown in a white Proven Winners PRO #1 container and available in various color and plant combinations.
We have expanded our Succulent line and now offer Mixed Trays of 28 Succulents in 2″ pots!
Our succulents are also available in:
3.5″ pots – 12/flat
4.5″ pots – 10/flat
Succulent Trio Tray – 3, 4.5″ containers snap to the decorative tray

Contact sales at 800-948-1234 or check out our availability list to order.
Succulents are wonderful for outdoor containers, mixed planters, and as houseplants. They provide wonderful color and texture. Full sun is generally preferred and plants only need occasional watering once established.
To see our current varieties check out our Availability List and our online catalog.
Need some succulent planting inspiration? Then check out our Succulent Pinterest Board.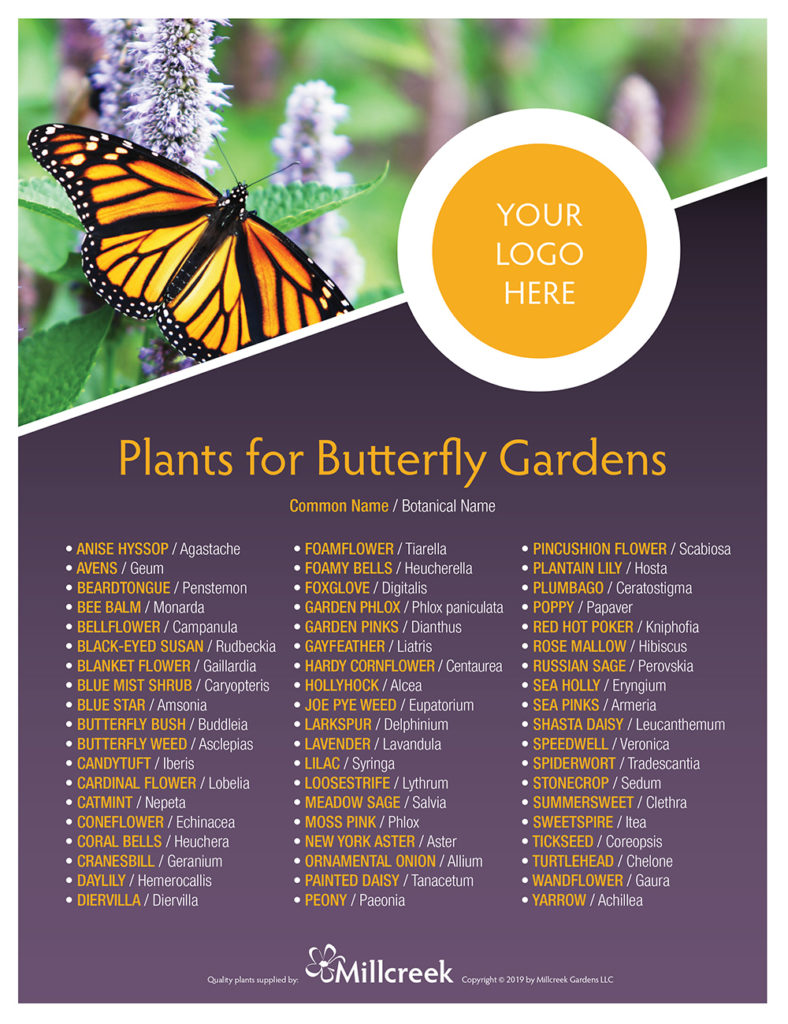 Let us help you sell more plants in your Garden Center this year!
Our POP package includes 12 colorful signs to educate your customers and help them find the plants that meet their needs. Your logo will be placed on each sign.
Our Signage is available in two size packages:
22″ x 28″ signs – Get 6 large format signs for $149, or the full set of 12 for just $199 + shipping
8 1/2″ x 11″ signs – Get 12 signs for $69 +shipping
Our 12 signs include:
Culinary Herbs
Deer Resistant Perennials
Drought Tolerant Perennials
Fun Plants for Kids
Herbs with Edible Flowers
Native Perennials
Perennials for Cut Flowers
Perennials & Grasses for Rain Gardens
Perennials for Hummingbird Gardens
Perennials for Miniature Gardens
Perennials with Fragrant Flowers
Plants for Butterfly Gardens
Contact our Sales Team at 800-948-1234 or sales@millcreekplants.com to order.
Orders must be placed by February 26, 2021.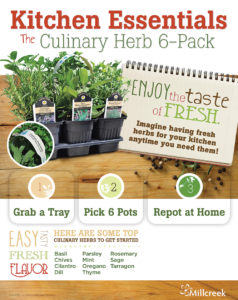 Are your customers feeling overwhelmed about the herb selection process?
Our large signage will help you promote the ease of selection of Herbs for the Kitchen Essentials 6-Pack and includes a space for you to put your pricing or other information.
Our brochure contains information about the top culinary herbs as well as tips, recipes, and flavor suggestions. It's perfect for those shoppers who are new to herbs or even those who want to learn more.
Our 6-pack trays fit our 3″ herb pots with an easy-to-carry handle making it easy for customers to just grab 'n go!
Kitchen Essentials Starter Package #1 Contains:
Large 22″ x 28″ Coraplast Sign 
50 herb brochures
12 trays
12 handles
* We recommend ordering 12 flats of Millcreek quality herbs with this package.
Kitchen Essentials Starter Package #2 Contains:
Large 22″ x 28″ Coraplast Sign
100 herb brochures
25 trays
25 handles
* We recommend ordering 25 flats of Millcreek quality herbs with this package.
To order, check our our weekly Availability List or contact our Sales Team at (800) 948-1234 or sales@millcreekplants.com.