About Us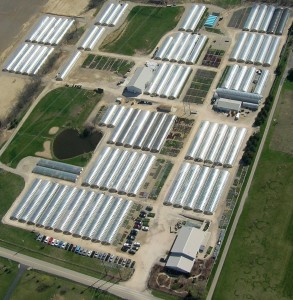 Millcreek Gardens LLC was established in 1978 by Ohio State University graduates George and Lynda Pealer. The nursery began as a woody ornamental and perennial flower nursery, but by 1982, the woody plants were discontinued in favor of herb plants, in which Lynda had a strong interest. Today, our nursery specializes in herbaceous perennials, herbs, groundcovers, ferns, ornamental grasses, vines, and annuals grown in containers. We sell finished "retail ready" plants on a wholesale basis to independent garden centers, landscape contractors, farm markets, and municipalities within a 250-mile radius of Columbus, Ohio.
Our team works hard every day to carry out our mission "To Grow High Quality Plants, People, and Relationships" and grow the highest quality herbaceous plants for our customers.
We produce over one million finished plants annually in facilities that include over 80 greenhouses covering nearly 200,000 square feet. In addition, our central conservatory area houses our Propagation Department that produces 500,000 starter plants per year. We are also equipped with a 3,200 square foot automated Production Facility with two transplanting lines to maximize efficiency in our plant production.
We are considered a "traditional" perennial grower, as about 70% of our perennial plants are grown outdoors in the summer months and overwintered in minimum heat polyhuts. The remaining plants are grown in heated greenhouses in spring. Our polyhuts are outfitted with overhead irrigation, heaters, and ventilation equipment, and are covered with clear polyethylene film in November, and uncovered during April.