On October 1, 2021
MARY COONS
Celebrated her 20 year Anniversary with
Millcreek Gardens!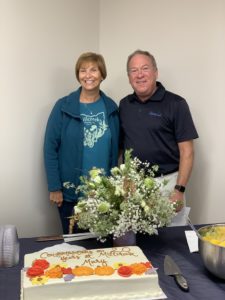 Mary joined the Millcreek team in October of 2001. While a day spent entirely in the office was new to her, she brought to our office team many years of plant knowledge that she gained during her 10 years as grower at a nearby wholesaler. Her previous experience provided Mary solid footing from which to launch her days interacting with our customers in the her new role as our Sales and Customer Service Director.
We often say around here that Mary is the voice of Millcreek. She has spent the last 20 years cultivating relationships with our customers, many of whom certainly recognize her voice on the phone and love the opportunity to interact with her at our Annual Open House or various Trade Shows.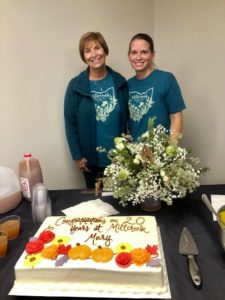 Throughout Mary's tenure our office environment has undergone many changes including physical remodeling of our office space (twice!), new networking and computer equipment, new growing software used daily to inventory and sell our product and maintain our customer information, a new shipping system and an entirely new phone system. She has rolled with our changes and enhancements and strives to provide the best experience possible for our customers.
In her free time, Mary enjoys gardening, walking, yoga, traveling (especially to see live music) and new microbrews!
Mary is an essential part of the success of the Millcreek Gardens Team. We are thankful for her many years of dedication!  
HAPPY 20 YEARS, MARY
and 
THANK YOU FROM THE MILLCREEK TEAM