With our weekly availabilities starting again on Thursday, March 5th, we wanted to post a quick "how to" refresher so everyone can use the spreadsheet with confidence and to its fullest potential. We should start by saying that using the digital weekly availability spreadsheet is the best way to order with Millcreek. This Excel spreadsheet directly imports into our software program, thus eliminating the possibility of human errors.
The first step in using our availability spreadsheet is to download it from our weekly availability broadcasts. This broadcast will now be sent to your email inbox around mid day on Thursdays throughout the season. If you're not receiving them and should be, or would like to be, please contact our team at sales@millcreekplants.com. Please check your junk email as well as it tends to land there from time to time. To download the excel spreadsheet, click on the button similar to below, in the body of the availability emails.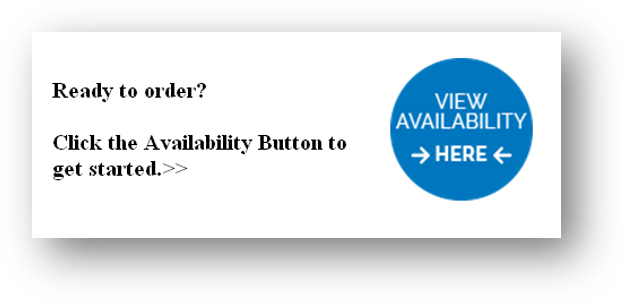 From there, the spreadsheet will download typically to the lower left hand corner of your screen. See screenshot below with Millcreek_Weekly_A…xls in the bottom left hand corner. Click on that box and the page will open on your screen. Please note, the website version does NOT list prices.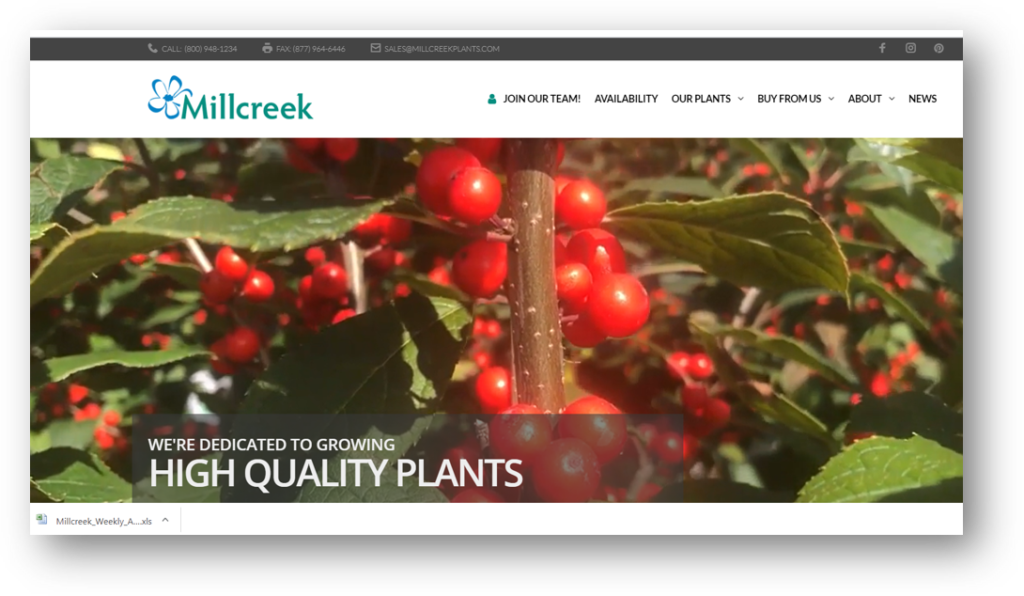 Once the sheet is open, please complete the customer information area at the top of the page including: Company Name, Ordered by, Pickup/Delivery Date, PO#, etc… 
One other thing to note about the top of the screen is when it was last updated. On image below, note that the availability pictured was updated on February 25th, 2020 at noon. We update this spreadsheet constantly throughout the day as we are processing orders to give our customers an accurate depiction of what we have available at any given time. 

We encourage you to sort rows or filter columns any way you find most helpful for your use. Many customers find the comment "Bud & Bloom" to be the most beneficial for their use as those are the plants that are going to look the best on Garden Center shelves. Sort and filter however you would like but please DO NOT delete any fields. 
When you'd like to order, please type the number of pots needed in the "order qty" column. Once numbers are entered in the "order qty" column, the "extended total" column automatically calculates and a running plant subtotal price will formulate in row 17. Note that this price does not include any applicable discounts, additional services, freight, etc…

When finished, please save your excel document as a .xls or .xlsx file extension. Attach your completed file to an email and send to:  sales@millcreekplants.com. Please include any special instructions or order information in the body of your email message. 
*IMPORTANT* – When we receive your order by email, we always reply with a confirmation. If you do NOT receive a confirmation, please contact our sales team to confirm our receipt. Replies can be expected within a couple of hours during normal business hours or the following business day.
Tips
·         The availability is organized by CATEGORY (Annuals, Decorative Planters, Herbs, Perennials, Proven Winners, Succulents, etc…
·         Within each CATEGORY, the plants are listed ALPHABETICALLY, one size after another for the same variety.
·         A Size Legend (including quantities per tray and order minimums per size) is located at the top of the form.
o   The filters are useful for filtering the lists down to show only a specific size, category, or comment, for example. To see only a specific size, simply click the filter button and select size you wish to view. Similarly, you can view specific comments "bud & bloom", "newly finished crop", and so on.
If you have any questions or need our team to walk you through using the availability spreadsheet, please give us a call at (800) 948-1234, we'd love to assist you.