On February 26, 2020
MATT HUTCHINS
celebrated his 5 year Anniversary
with Millcreek Gardens!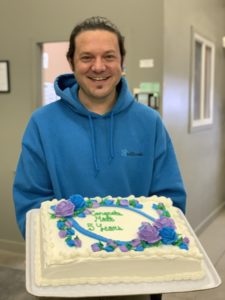 Matt joined the Millcreek team in the Spring of 2015. He learned about Millcreek by watching a live tv segment with Tom Wood of NBC4 in Columbus on a early Saturday morning! He began working in our Quart Perennial Department where he pulled orders. In the summer he was promoted to Section Grower of our Annuals, Succulents, and Specialty Crops. The specialty crops quickly became focused on Annuals, which Matt had previous experience growing. 
Since Matt has joined our team our Annual and Succulent lines have doubled in sales. He has played a key role in expanding our product line-up from originally growing only 4.5″ annuals to now offering 3.5″, 6″, 12″ hanging baskets, and 12″ Decorative finished annual planters. He has also contributed to the expansion of our Succulents into the 2″ and 3.5″ offerings and he continues to find unique and cool additions to our line-up.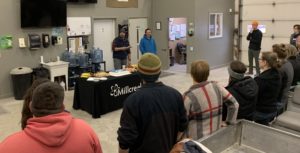 In 2018 we added a line of Shrubs to the Millcreek portfolio  under Matt's care. His many years of  experience in the Landscape industry greatly helped influence and fine tune our product offering. He has a keen eye for design and regularly creates the plant oasis we have at our Spring Seminar, displays for our Open Houses, and updates the front planter each season that greets visitors upon their arrival at our Office. 
We are thankful to have Matt on our team and are excited to be celebrating his 5 years anniversary with us. His input and contributions to Millcreek have had a great impact on our business.