On February 27, 2023
Laura Richards
Celebrated her 15 year Anniversary with
Millcreek Gardens!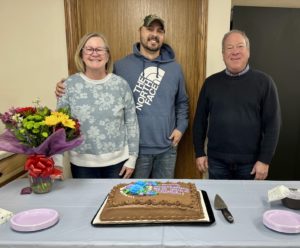 Laura joined Millcreek in 2008 after working in the interiorscape, floral, commercial holiday decorating, and garden center fields. Laura found her home at Millcreek as the Section Grower of Herbs and prides herself in delivering a quality finished product to our customers. She is especially proud of the working relationships she has built with the members of her herb team and rapport with her customers.
Laura not only grows our beautiful herbs, which was one of Lynda Pealer's goals for this company (and her passion as well), but she also has a love of training and raising up young team members at the beginning of their careers at Millcreek.
Laura cares so much about growing quality herb crops for Millcreek that she produces detailed training guides and post season recaps to ensure that her and her team are putting their best foot forward each and every year. She is also an active member of the social committee and always has fantastic ideas about activities and events.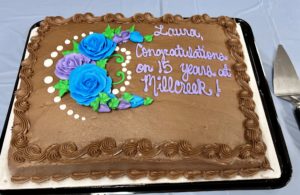 Outside of work, Laura tends to her herb, kitchen and perennial gardens while bringing in her harvests to the table. She is very proud of her three children; Emily, Erik, and Luke. Her and her husband, Troy, try to retreat to the shores of Lake Erie with their kids any chance they can get!

HAPPY 15 YEARS, LAURA!
THANK YOU FROM THE MILLCREEK TEAM!