On March 20, 2020
FRED HIGGINBOTHAM
Celebrated his 15 year Anniversary with
Millcreek Gardens!
Fred began his career at Millcreek in 2004 when he joined as an Intern while attending The Ohio State University.
Prior to joining Millcreek Fred attended Alfred State College in New York. He worked as an Assistant Grower at a greenhouse in New York and also spent time working at the Ornamental Plant Germplasm Center at Ohio State. He received his degree in Horticulture and Crop Science from The Ohio State University in March of 2005.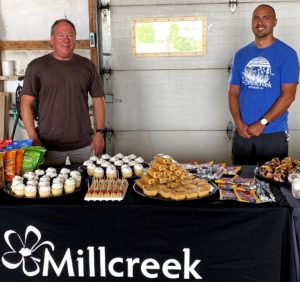 Upon graduation, Fred was hired full-time   and worked in our IMPACT perennial department where he focused on general plant care and maintenance. In 2008 he became the Head Grower of our Groundcover Department and in 2009 assumed responsibilities as the Assistant Grower in our IMPACT Perennial Department. In 2010 he was promoted to Head Grower of our IMPACT Department. Moving through the ranks, in April of 2012 Fred moved up to the position of Growing Operations and Production Supervisor and then shortly thereafter to Growing Operations and Production Manager.
Fred is an Ohio Certified Nursery Technician with a Grower Specialty. 
His responsibilities encompass all aspects of growing at Millcreek including projecting sales and growing figures, staffing and labor management in the growing areas, and budgeting. Fred is a solid leader and manages with a positive attitude. He sets a great example for our team! 
In his time away from work, Fred is an athlete and has completed triathalons and completed the Columbus Marathon in the Fall of 2019. Most all, Fred is an awesome dancer!
He is a very valuable member of our team. 
CONGRATULATIONS FRED
and 
THANK YOU FROM THE MILLCREEK TEAM