On March 29, 2020
HANNAH FREY
Celebrated her 10 year Anniversary with
Millcreek Gardens!
Hannah joined Millcreek in Spring of 2010 as a seasonal worker. Since that time she has worked as a Technician in our Herb Department and then as our Order Accuracy Coordinator in our Shipping Department. In the Spring of 2015 Hannah transitioned to  Coordinator in our Herb Department. In the springtime she is the picking crew leader for our amazing Herbs department where she prides herself in overseeing and coordinating order fulfillment.  Year round she works alongside Laura, our Head Grower of Herbs to keep our crops healthy and happy!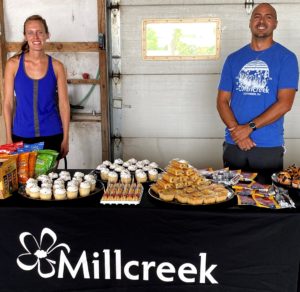 She also contributes time in our peak Spring season assisting in our Shipping, Quart, and Propagation departments. In the Summer she runs the IMPACT potting line in Production and in the Fall she oversees the covering of all greenhouses on the property. Hannah also finds the time to clean our company offices and makes them sparkle! We appreciate her deeply!
Hannah is an avid baker and in her free time she bakes the most delicious treats that she regularly shares with all of us at Millcreek. She spoils us on a very regular basis with her wonderful gift. She even bakes birthday treats for each team members birthday throughout the year!
CONGRATULATIONS HANNAH
and 
THANK YOU FROM THE MILLCREEK TEAM!