On March 26, 2020
SHARON CLINE
Celebrated her 5 year Anniversary with
Millcreek Gardens!
A native of Buffalo, NY, Sharon moved to Ohio at the age of 5 and then moved to New Jersey at the age of 12 where she lived for quite some time. Hence her east coast accent you may notice when you speak to her in person or on the phone!
Before coming to Millcreek, Sharon worked for many years in various administrative positions for large corporations in the Flavor and Fragrance Industry on the East Coast.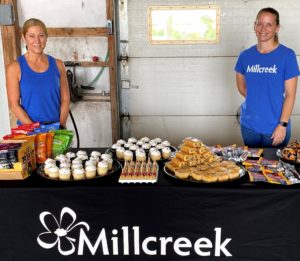 Sharon initially joined the Millcreek team as a seasonal employee working in our Production Department. She quickly fit right in and in the Fall when we posted an Office Position, she joined our team full time in a newly formed position as  our Office and Growing Support Technician.
As this was a new role for our Company, we've continued to tweak Sharon's responsibilities and have updated her current role to our Sales Office Coordinator. Sharon works in our office on our inside sales team where she does all things office and attends to the needs of our customers. Her regular activities include answering phones, entering orders, sending order confirmations, assisting with customer pick-ups, ordering office supplies, keeping office forms printed and stocked and so many other pieces parts that keep our  office running so well.
Beginning in 2020 she's been taking pictures that appear in our weekly Availability newsletter and has also taken over the weekly sending of the Availability newsletter each Thursday.
In summer, fall, and winter she can be found assisting in various growing areas including production, propagation when she's not working in the office. She has a pleasant attitude and brings a kind spirit to work each day. 
CONGRATULATIONS SHARON
and 
THANK YOU FROM THE MILLCREEK TEAM