On March 3, 2019
MIKE BENEDICT
celebrated his 5 year Anniversary
with Millcreek Gardens!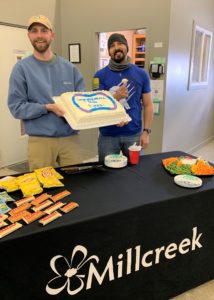 Mike joined Millcreek in 2013 as an Intern while attending The Ohio State University. Throughout his internship, he worked his way through many areas including the growing departments, production, propagation, and shipping.  While working in propagation he actually helped start loads of sedum plugs for a large roof garden at Ohio State! He returned to school at OSU and upon graduating  he joined our team full time as a Coordinator in our PRO #1 Perennial Department.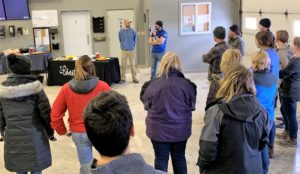 After gaining experience as a Coordinator, Mike was promoted to Section Grower of our PRO #1 Perennial Department where his duties included the many tasks of producing our high quality plants including  plant care and maintenance, maintaining plant availability, ensuring crop health, and overseeing work crews throughout the year. In the Fall of 2016, Mike transitioned and became the Section Grower of our Propagation Department.  He is responsible for producing roughly  a half a million starter plants of herbs, perennials, and succulents each year that we shift up into our various finished sizes. He has made great strides in improving our processes, greatly upping the bar on our quality, and he continually looks for ways to increase our efficiency in  the propagation department. Mike is also our Safety Coordinator and is responsible for Safety Training of our year-round and seasonal staff, safety inspections, and maintaining our safety compliance in various ares.