On February 11, 2021
MARK NOBLE
Celebrated his 30 year Anniversary with
Millcreek Gardens!
In February, we celebrated Mark Noble's 30th Anniversary at Millcreek Gardens!
Mark joined Millcreek in 1991 as a member of our Maintenance Department and is currently our Facilities Coordinator. The only person who has been here longer is our owner, George!
Since he's been with us for 30 years, he's been a part of every major expansion of our growing facilities and could probably tell you where every underground pipe is located! He started at Millcreek just after our Conservatory was built and since that time has helped build every greenhouse and related facility other than our main office and production buildings.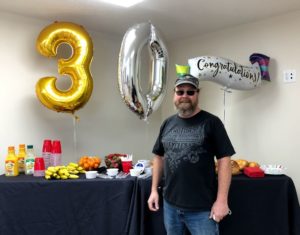 He is responsible for the maintenance and upkeep of all our heavy equipment and tractors as well unloading incoming deliveries. He is involved in all aspects of our physical facilities including building new greenhouses, running irrigation, gas, and electric lines, and installing heater and shutter systems. He also maintains our facilities and can build and fix anything!
He is a very valuable member of our team and we are so happy he has made his career here for 30 years!
CONGRATULATIONS MARK
and 
THANK YOU FROM THE MILLCREEK TEAM