On April 18, 2023
Lyndsey Zinni
Celebrated her 5 year Anniversary with
Millcreek Gardens!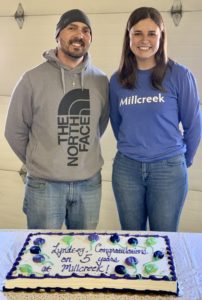 Lyndsey joined the Millcreek team in Spring of 2018 as a seasonal staff member and has quickly moved up the ranks!  After spending the summer in our Annuals and Shrubs department, Lyndsey was promoted to Growing Coordinator for the Quart Perennial Department and joined our team full-time. Her responsibilities included fulfilling orders for shipment along with plant care and  maintenance to insure quality plants.
In December 2019, Lyndsey was promoted to Section Grower of our IMPACT and PRO #1 Perennials as well as our Peonies.
Early in 2023, Lyndsey was promoted to Growing Operations and Nursery Supervisor. Her responsibilities include day-to-day operation and labor allocation across all areas of the Growing department at Millcreek. She works in collaboration with our Growing Operations & Production Manager to support long-term planning and staffing needs, departmental objectives, and overall operating processes across the growing areas. Her work ethic and dedication has truly made a positive impact on Millcreek in many ways!
Lyndsey is committed to the growing industry as she is a member of AmericanHort's GenNext Connector Group.  She meets monthly with other Green Industry Professionals and plays an active role in the selection of HortScholars and proposing Cultivate sessions and activities.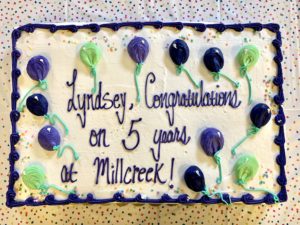 Outside of work, Lyndsey enjoys spending time with her husband, Tyler, and their 3 pets; Izzy, Lilo, and Penny. She and her husband enjoy gardening and exploring local places. Additionally, Lyndsey enjoys traveling, partaking in a variety of outdoor activities, and visiting family and friends in the Cleveland, Ohio area.

HAPPY 5 YEARS, LYNDSEY!
THANK YOU FROM THE MILLCREEK TEAM!