On March 13, 2023
Keith Dresback
Celebrated his 10 year Anniversary with
Millcreek Gardens!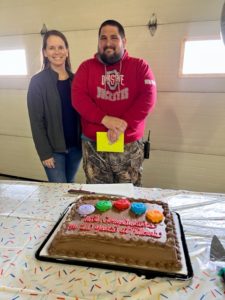 Keith began working at Millcreek in the early spring of 2013 in our Production Department. For many years, you could find him either working on the potting lines or more regularly as our chief offloader leading our seasonal help in laying down newly planted production in all of the growing areas of our nursery. Keith is a true team player and helps out in many other areas of our nursery – anywhere from the growing areas, to our shipping department, to helping with facilities tasks when the needs arise.
Early in 2023, Keith took on a new role of Shipping Supermarket Coordinator where he coordinates supermarket shoppers and customer order fulfillment while addressing any issues that may arise. Keith also oversees the application of pre-pricing stickers to those orders for customers enrolled in our additional Pre-Pricing Service.
Outside of work Keith is an avid sports fan!

HAPPY 10 YEARS, Keith!
THANK YOU FROM THE MILLCREEK TEAM!