On April 5, 2021
SARA GRIBBLE
Celebrated her 10 year Anniversary with
Millcreek Gardens!
In April, we were proud to celebrate Sara's 10th anniversary with Millcreek Gardens.  Sara joined our team in  spring 2011 and initially worked as our Order Accuracy Coordinator in our Shipping Department.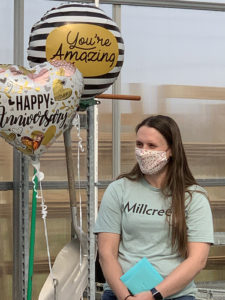 In the Fall of 2015, Sara was promoted to her current role as Inventory Planning and Purchasing Director. She works directly alongside our Growing Operations Manager to purchase and organize rotations of all plant material across all of our growing departments. She is also responsible for setting up and maintaining production schedules and plans for each of our product lines.
She puts in an incredible amount of work behind the scenes. From sourcing and ordering plant material, to keeping playbooks up to date… she does so much.  She spent an extraordinary amount of time on the 2020 Millcreek tag re-design. Designing, coordinating with the printer, adding symbols and descriptions, picking accurate photos, and hand scanning every single tag barcode proof to make sure the scanned tag actually led to the correct plant in our system was no easy task! 
CONGRATULATIONS SARA
and 
THANK YOU FROM THE MILLCREEK TEAM