On January 4, 2022
Peter Gordon
Celebrated his 5 year Anniversary with
Millcreek Gardens!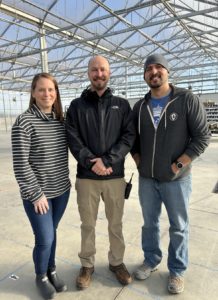 Peter ("Pete") joined the Millcreek team at the beginning of 2017 as the Section Grower for our Quart Perennial program. Pete brought a well-rounded skill set that he had acquired at previous green industry jobs in different states throughout the U.S. earlier in his career. As the Section Grower for the Quart Perennial program, his responsibilities included regular plant care and maintenance, maintaining plant availability, ensuring crop health, and overseeing work crews throughout the year.
In November of 2019, Pete was promoted to Growing Operations Head Grower & Supervisor, a role which he still holds today. In this new role, Pete supports our Growing Operations Manager in the areas of planning and goal setting, day-to-day operations, resource allocation, staff hiring and development. He works with all of our Section Growers, Growing Coordinators and Production & Planning team members to offer leadership, support, collaboration and development opportunities.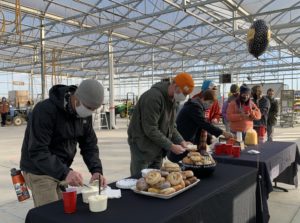 Pete was born and raised in central Ohio and attended Ohio University. Pete's earlier work experience in the ornamental horticulture industry began with order fulfillment in 2008 where he quickly realized that he liked working with plants. His first job as a Grower was in Washington for Smith Gardens growing annuals and perennials.  He took a few courses in horticulture at Edmonds Community College while working to help complement what he was learning at work.  From there he has worked in Michigan and Ohio growing a wide variety of plants in both propagation and finished production.
When Peter is not at work he enjoys photography, listening to music (especially live music!), and trivia.  He is an avid movie watcher as well as a big fan of Ohio State University athletics.  Millcreek employees can also speak to his top-notch karaoke skills as well as his generous spirit, always lending help to friends and family members when needed.
Pete is an essential part of the success of the Millcreek Gardens Team.  We are thankful for his many years of dedication and look forward to many more.  Happy 5 years, Pete!
HAPPY 5 YEARS, PETER
and 
THANK YOU FROM THE MILLCREEK TEAM