We are currently hiring
Full-Time Year-Round! 
Join our year-round team - apply online now!
To learn about additional job opportunities - click here!
Come join our crew and enjoy some great perks including:
Competitive Wages
Health and Life Insurance Benefits
Vision and Dental Benefits
SIMPLE IRA Retirement Benefit
Plant Discounts
Great Team Culture! 
Accounting Coordinator
Millcreek Gardens is hiring an Accounting Coordinator, who will be largely responsible for providing daily support to the Accounting and Sales & Customer Services functions in the Business Office.
Essential job responsibilities include:
(1) Accounting Support & Management: Performs various administrative and bookkeeping tasks utilizing QuickBooks, SBI Nursery Software, and Microsoft Excel to assist with Accounts Payable and Accounts Receivable. Accounts Payable tasks include auditing invoices/credit memos with packing slips, invoice input, routing to supervisors for approval, and bill pay/printing manual checks. Also includes inputting journal entries to record account transfers, coding transactions and entering bi-weekly payroll information. Accounts Receivable tasks include receiving customer payments via cash, check, EFT, or credit card, posting payments in Quickbooks and making deposits via electronic check scan, Paymentech credit card processing, or in-person banking. Other activities include printing reports, reconciling bank accounts, credit card statements, and cash box/employee vending machine receipts. Additionally includes processing Customer Applications for Credit, monitoring customer credit limits, sending monthly customer statements, and tracking COD customer payments. Utilize SBI Nursery Software to update and manage customer account information relating to the accounting function to include financial information and customer contacts. Answer customer accounting inquiries and respond in timely manner. Manage office postage meter and mail, and make trips to Post Office and bank as needed. Supports office staff and sales team. Allocates time effectively, properly prioritizing job demands, and simplifies processes to improve work effectiveness.
(2) Sales, Customer Service Support. Provides financial and bookkeeping support to Sales & Customer Service functions and acts as a liaison between Accounting and Sales departments. This includes assisting office with Accounts Receivable invoicing, tracking, and logging COD customers via MCG shipping board. Ensuring payment has been received, processing Customer Pick Up or phone-in customer payments via credit card machine/online Paymentech, and updating log for customer credit balances and credit cards on file. Updates credit terms, credit limits, and accounting customer contacts in SBI Nursery Software. Sends payment reminders to customers and rectifies customer accounting issues. Handles day-to-day work challenges, adjusting to multiple demands and shifting priorities.
(3) Additional. Effectively communicates, fosters teamwork, provides exemplary customer service, addresses changing business needs, and maintains professionalism at all times.
Minimum Qualifications
Education: Associate's Degree or equivalent.
Minimum 1 year experience in an office support position with similar duties.
Technology: Proficient in using Quickbooks, Microsoft Word, Excel, Outlook, and SBI Nursery Software. Proficient computer skills and the sue of related technology software to include internet applications.
Skills: Proficient in Finance and Accounting
Preferred Qualifications
Experience: Prior Horticulture/Green Industry experience.
Interested candidates should complete Millcreek's Full-Time Year-Round 
Employment Application 2022 

here

.


Our company, customer base, and our convenient location: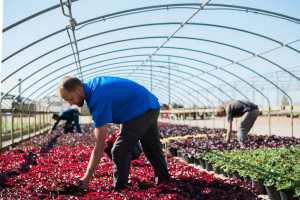 Millcreek is a wholesale grower committed to supplying high-quality container-grown perennials, herbs, ornamental grasses, annuals and shrubs. We have a wonderful team of people who work hard every day to supply a top notch product to our customers, who include independent retail garden centers, farm markets, landscapers, municipalities, and public horticulture entities. We are located in Ostrander, Ohio, just 10 minutes north of Dublin and 30 minutes north of the O.S.U. campus. We are within a brief commute from many of the Columbus suburbs including Powell, Marysville, and Delaware.
What we produce and how we do it:
Each year, we produce more than one million finished plants in facilities that include over 95 greenhouses covering 192,000 square feet. In addition, our Propagation Department produces over 700,000 starter plants per year. We are equipped with a 3,200 square foot automated Production Facility with two transplanting lines to maximize efficiency in our plant production. We began using our newly built Shipping Facility in the Spring 2020.