We are currently hiring
Seasonal Full-Time Positions for Spring 2020! 
Join our team - apply online now!
Come join our fun crew and enjoy some great perks including:
Competitive Wages
Referral Bonuses
Plant Discounts
Employment Bonuses
Promotion Opportunities
Great Team Culture with Social Activities
Opportunities include:
Plant Production: preparing & transplanting starter plants into finished containers on an automated production line, offloading potted plants into greenhouses
Order Pulling: walking through greenhouses and pulling large groups of plants to fill our supermarket
Shipping: cleaning plants for shipping, picking orders in our supermarket, and/or applying stickers to plant containers for shipment
Plant Maintenance: various hands-on plant tasks including spacing, moving, pruning, weeding, labeling, etc.


Our company, customer base, and our convenient location: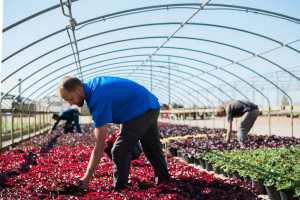 Millcreek is a wholesale grower committed to supplying high-quality container-grown perennials, herbs, ornamental grasses, annuals, succulents, and shrubs. We have a wonderful team of people who work hard every day to supply a top notch product to our customers, who include independent retail garden centers, farm markets, landscapers, municipalities, and public horticulture entities. We are located in Ostrander, Ohio, just 10 minutes north of Dublin and 30 minutes north of the O.S.U. campus. We are within a brief commute from many of the Columbus suburbs including Powell, Marysville, and Delaware.


What we produce and how we do it:
Each year, we produce more than one million finished plants in facilities that include over 95 greenhouses covering 192,000 square feet. In addition, our Propagation Department produces over 700,000 starter plants per year. We are equipped with a 3,200 square foot automated Production Facility with two transplanting lines to maximize efficiency in our plant production. Our newly built Shipping Facility will be utilized for the first time for the Spring 2020 season. 
Join our team - apply online now!